The Premiere Episode –
The Yankee Clipper with Mark Parry and "JetValues" Jeremy Cox
This podcast series is called "Contrails and Cocktails" and it's sponsored by Global Aircraft Group. Global Aircraft Group offers desktop appraisals, expert witnesses, and prebuy inspections. The founder is located in New England, and he travels free of charge to anyone in New England with a situation that needs his services – you may need an aircraft appraisal for an aircraft transaction, an estate settlement, a divorce, a legal situation, whatever it is if you've got a problem,
For our very first episode, we have the founder of Global Aircraft Group and a very special guest – we couldn't have asked for a better combination for our first episode.
'JetValues Jeremy' is very active in the aviation industry. He currently holds valid A&P, IA, and FCC Licenses and a Commercial Certificate with Instrument Rating. As a former member of the Society of Licensed Aircraft Engineers and Technologists, he was elected by the Royal Aeronautical Society as a Technician of the Society in 1987. He is actively involved in the Greater St. Louis Business Aviation Association. During my varied career, he has also been very active in various roles for the National Business Aviation Association, the Popular Flying Association, the Experimental Aircraft Association; and the Aircraft Owners and Pilots Association. He was formerly the Vice President at JetBrokers, Inc, a professional aircraft sales company. His duties at JetBrokers included acting as a direct interface between aircraft purchasers and sellers, marketplace research, prospecting, technical status/compliance review, pre-purchase inspection monitoring, reporting, and aircraft appraisal. Before JetBrokers he was the Vice President at a St. Louis based full-service FBO and Repair Station and Aircraft Parts Manufacturing company. Author of many books and trade journals, and more certifications than we could have time to mention here.
Mark Parry is the President and Founder of Global Aircraft Group. President and founder Mark Parry has over thirty years of experience in corporate aviation. He has a diverse roster of clients. He has unparalleled access to professional resources, which helps the organization achieve positive returns on its clients' investments and capital. Before establishing Global Aircraft Group Mark worked for Bombardier in numerous capacities involving sales, maintenance, completion, and pre-purchase inspections. He was also employed by Lockheed Advanced Development Programs "The Skunk Works" under Kelly Johnson. Mark holds a bachelor's degree from the University of Massachusetts in Management. He is also a Senior Certified Aircraft Appraiser and member of the Professional Aircraft Appraisal Organization, Lastly, a Licensed Air frame and Power Plant Mechanic. Parry also attended the Massachusetts School of Law in Andover
So, when Mark asked Jeremy to participate in this project, Jeremy immediately suggested they talk about the history of Pan Am and make the famous cocktail, the Yankee Clipper.
So, let's dive in . . .
Notes from this episode:
How Mark used to fly with Milo High, Elvis' pilot.

How a titanium bleed band caused a compressor stall at 30,000 feet aircraft maintenance nightmare, and ultimately paid for the downpayment on Mark's first house and a lot of diapers as he was starting his young family.

How Jeremy was "knighted" with a screwdriver (rather than a sword) by Prince Micheal of Kent as his "royal starter motor!"

Jeremy shares his wisdom about the aircraft market

Bonus – we learn the history of Irish (or Gaelic) coffee – also an aviation story! (Who knew?)

The experiment of aluminum pianos in luxury aircraft

The use of modeling clay in aircraft repair.

And we get an unsolicited review of the Pitbull Skull Shaver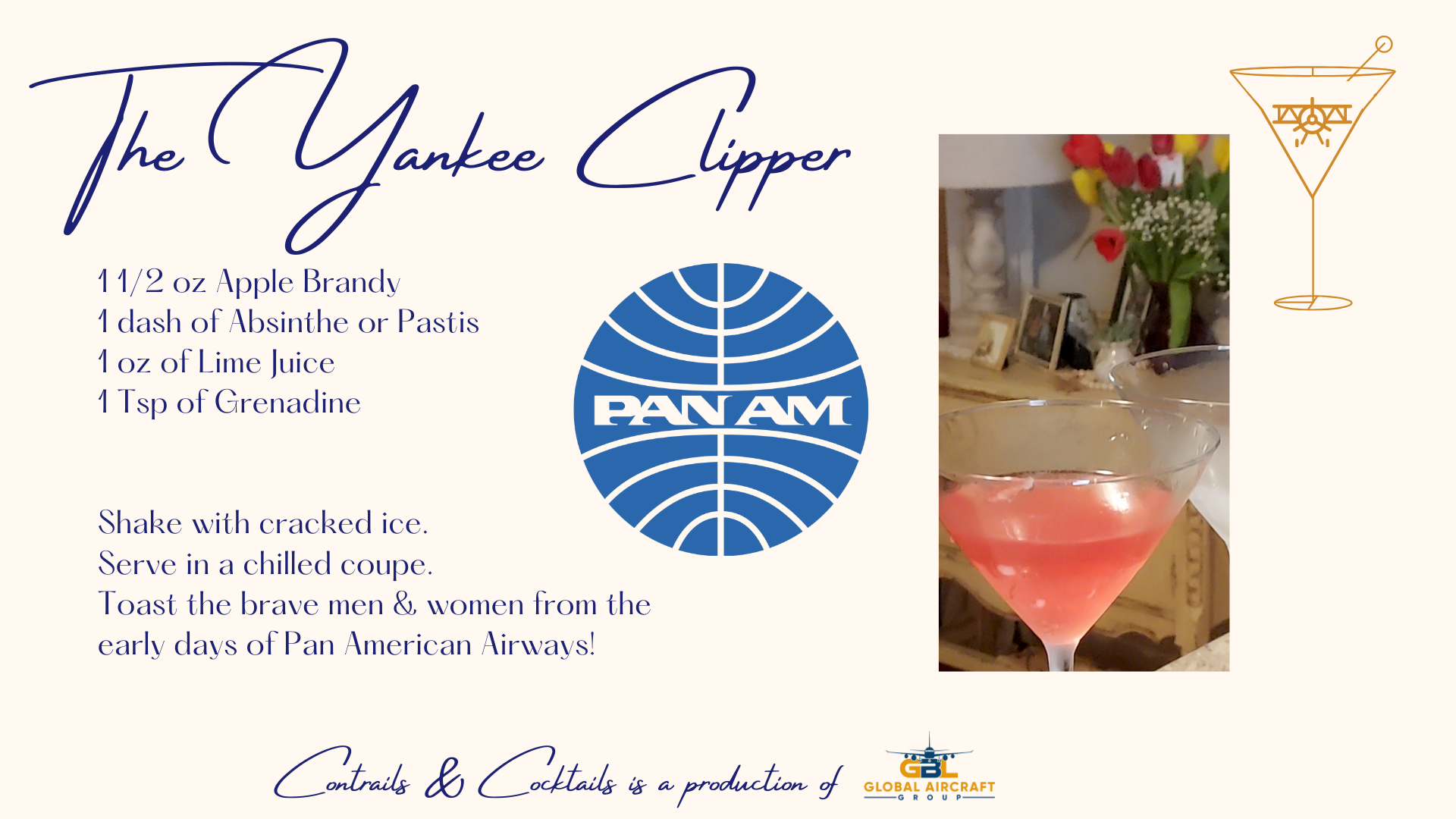 https://oembed.libsyn.com/embed?item_id=23819735
Podcast: Play in new window | Download
Podcast: Play in new window | Download